We know that Cabinet Office ministers refused to let the Information Commissioner's Office audit the processes of the controversial FOI Clearing House, which helps to coordinate departmental replies to freedom of information requests.
But it appears that some Cabinet Office officials were keener on the idea, according to documents released to me under FOI.
Cabinet Office and ICO staff discussed the proposed audit in exchanges over some weeks, before a formal proposal was drawn up.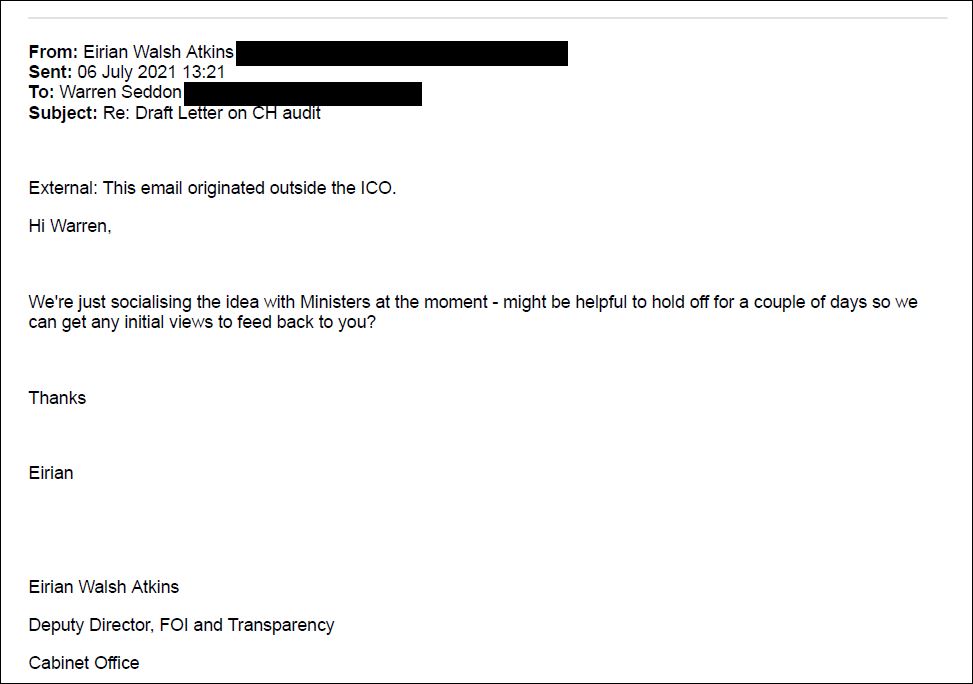 In early July the Cabinet Office's Deputy Director for FOI and Transparency, Eirian Walsh Atkins, emailed a senior ICO official: "We're just socialising the idea with Ministers at the moment".
Earlier, on June 29, she had written to reassure the ICO: "Just to say there's a lot of sound and fury in CO atm, so nobody is ignoring you – we just haven't turned Ministers' minds to this direction yet."
However, "socialising the idea" did not help to get it acceptance – once the formal plan went to ministers it was rejected.
In her evidence last week to the Commons Public Administration Committee, which is conducting an inquiry into the Clearing House, the outgoing Information Commissioner Elizabeth Denham said she was "frustrated and disappointed" by this ministerial refusal, which would "increase suspicion" about the Clearing House.
She also said that relations between her staff and Cabinet Office FOI staff had improved considerably in the past 12 months, and were no longer as "frosty" as they used to be.
Correspondence between the ICO and the Cabinet Office about the proposed audit was released to me under FOI by the Cabinet Office. And I don't often write this, but a small well done to the Cabinet Office for replying to my request in time – unlike the ICO, which has failed to yet reply to an identical request.