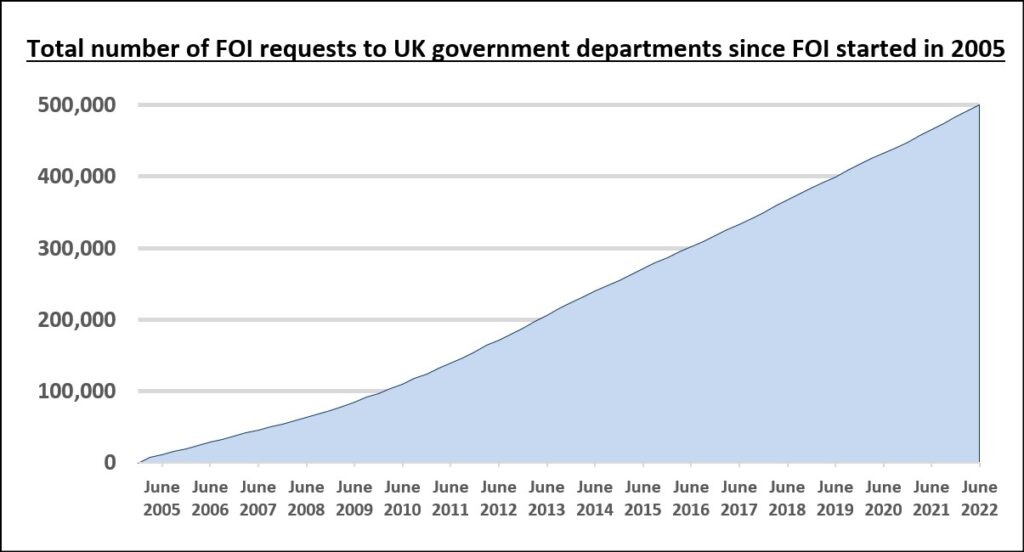 My prediction is that today, somewhere in Whitehall, a civil servant will receive a request for information which is the half-millionth freedom of information application to UK central government departments since the FOI law came into force in 2005.
This is based on my extrapolation from the official quarterly FOI statistics for central government issued by the Cabinet Office.
Their published quarterly figures don't include the cumulative numbers since FOI started, but I've been keeping track of the running total, as shown in my chart above.
At the time of the latest published data, for quarter 1 of 2022, the cumulative number of requests to government departments stood at 491,838.
The Cabinet Office won't be releasing their next set of statistics, covering Q2 of 2022, until September, but I've made a projection. Assuming the number of requests in Q2 of 2022 is 7.8% down on last year, the same factor by which requests in Q1 of 2022 were down on the corresponding quarter of last year, then my estimated cumulative total after the end of quarter 2 of 2022 is just over the half million mark, at 500,076 FOI requests submitted to departments since 2005.
On this basis the half-millionth request would just squeeze into the current quarter, today!
If you're the recipient, congratulations. I feel it should be accompanied by some kind of prize, but sadly no one, not even you, will actually know.
So that is half a million questions. The number of decent answers? Well, that's a different issue altogether.