'It's not good', 'Oh dear' – civil servants uneasily puzzling over how messages relevant to a freedom of information request disappeared from Nadhim Zahawi's mobile phone when he was a business minister.
This is part of an FOI disclosure to me, which reveals as well how the Cabinet Office discouraged government departments from checking personal mobile phones or private email accounts for material when answering FOI requests.
The documents also show that the Department for Business, Energy and Industrial Strategy (BEIS), which was dissolved earlier this year, had a blanket policy requiring all releases of information under FOI to get clearance from the departmental press office and ministers' special advisers.
This process would make it easier for FOI responses to be improperly affected by political interference and communications considerations.
BEIS also relied on the controversial Cabinet Office FOI Clearing House to approve an FOI response it intended to send.
All this is apparent in an FOI reply to me from the Department for Energy Security and Net Zero, a successor to BEIS. The government refused to release this material until it was forced to do so by the Information Commissioner's Office.
According to the records disclosed, in 2021 the Cabinet Office told BEIS that it should 'not normally be necessary' for departments to ask individuals to search their personal devices or accounts for official information relevant to a request, unless there were 'limited and exceptional circumstances'.

Ministers and officials are supposed to copy to official record systems any messages from their personal devices or accounts that constitute government business. However in reality it is plain that this often doesn't happen, even though these communications are legally subject to FOI.
A few weeks ago the Cabinet Office issued new guidance which is more in keeping with the law. This states: 'When responding to information access requests, departments should consider if relevant information may be held in NCCCs.' (NCCCs are 'non-corporate communication channels', such as private email accounts and chat apps on mobile phones).
My request for information related to the department's handling of an earlier FOI application in April 2021 from the Times journalist George Grylls. This was for messages between Nadhim Zahawi, then a junior business minister, and David Cameron, about Greensill Capital, the financial services company for which Cameron lobbied. Grylls' request specifically included asking for Zahawi's phone to be searched.
BEIS replied to Grylls that it did not hold any information within the terms of his request, which was puzzling as Cameron himself revealed some such messages to a Commons committee.
It later transpired that Zahawi had informed officials at BEIS that he did not have any messages from Cameron on his phone. When pressed he said he attempted to find the WhatsApp messages on his mobile but they were no longer there.
BEIS told the ICO: 'It is our understanding that Mr Zahawi does not know how the WhatsApp messages from Mr Cameron came to be deleted from his mobile phone.'
The disclosure to me reveals some anxious discussion among BEIS civil servants struggling with how to handle the issue of information disappearing from Zahawi's phone. On discovering that the WhatsApp setting enabling automatic deletion of messages had only been introduced in November 2020 and was not retrospective, one wrote 'it's not good', and another replied 'oh dear'. A senior private office official added: 'I'm just getting a bit worried about the effect of another clarification/exchange with him [Zahawi] on this.'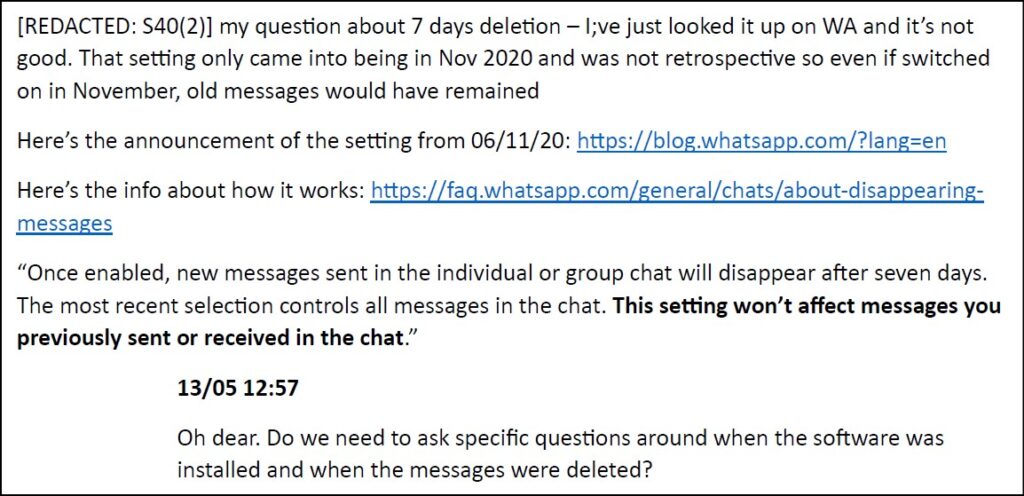 The disclosure also sheds light on the approval procedures for FOI replies from BEIS. The officials responsible for handling the request from Grylls were instructed by the department's FOI team: 'All requests involving disclosure of information need to receive clearance from News Desk and SpAds before being issued.'

But according to the Cabinet Office's FOI guidance, special advisers must not be allowed to make 'decisions on whether or not to withhold the information requested'.
BEIS also asked the Cabinet Office's FOI Clearing House for 'clearance' before sending its reply that no relevant information was held. This is despite the fact that the Cabinet Office has insisted that the Clearing House (which is to be replaced) only had 'a small-scale advisory function'.
The treatment of my FOI request by BEIS was extremely dilatory. The department first failed to respond to my initial request for five months, until I had asked the ICO to intervene, who then instructed BEIS to reply. BEIS then took another five months to process an internal review, again not replying until after I had complained to the ICO.
BEIS refused to release this information, arguing that doing so would inhibit officials from expressing their views in a free and frank manner. The ICO then itself took 12 months to decide the case, meaning that I received the material almost two years after I asked for it in May 2021.
It is not surprising that last year the ICO issued a practice recommendation requiring BEIS to improve its generally poor performance in handling FOI requests.