From the internal briefings prepared for the new Information Commissioner John Edwards, it's clear there has been rather a lot of angst among his senior colleagues about how he conducts his personal Twitter feed.
His account's tone was casual and folksy when he was New Zealand's Privacy Commissioner, combining some serious policy points with jokey remarks, funny videos and cultural criticism, while slipping into the occasional political controversy. As I said when I wrote about it before, I like its friendly informality, but I'm not at all surprised that his new cautious-minded colleagues seem deeply wary about the 'risks'.
The induction documents recently released under FOI reveal how the ICO management assembled a battery of arguments and research to try to persuade him to adopt a more corporate approach for his tweeting.
They fear that his unofficial posts could be seen as the ICO's organisational view and policy – perhaps they're thinking of the time he described Facebook as 'morally bankrupt pathological liars'.
They're worried that his personal tweets could be 'misconstrued' – perhaps they saw the time he pointed out that a New Zealand opposition politician sent emails in comic sans.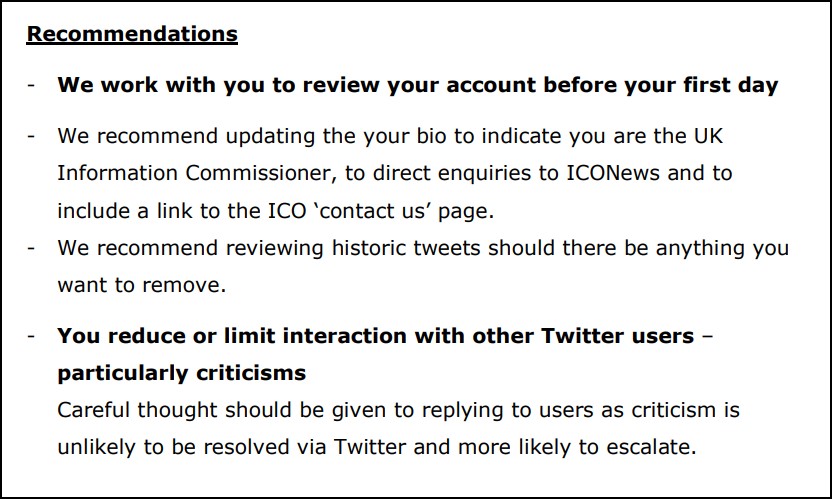 They're concerned that he could be seen as endorsing individuals or sub-tweeting – linking to a Guardian article that's seven years old to explain to him the tricky etiquette of sub-tweeting.
They certainly don't want him conversing with other Twitter users or getting involved in Twitter spats, recommending he should 'reduce or limit interaction with other Twitter users'.
They warn him that 'UK media have form of going through old tweets to try and find content that could be used critically' and so maybe he should delete some of them, though obviously I worked through his back catalogue ages ago.
They would like him to change his Twitter bio so that it directs enquiries to @ICONews, but that hasn't happened – yet.
And naturally they want him to focus his feed on ICO work and events, and tweet about this in a timely way. They've done their research and thus can draw attention to the anodyne content of the personal Twitter feeds of various other heads of UK public agencies – who are largely content to retweet their organisations' press statements, with a little extra stuff on the wonderful work of whichever outpost they have just visited, perhaps a picture of some conference they've spoken at, and minimal interaction with anyone else. This familiar flow of earnest tedium is presented as 'good practice' in corporate social media.
Still it's not all negative – they point out that the @ICONews Twitter account has ten times the followers that Edwards has personally, and therefore they 'can help to grow' his follower base.
Has it changed the tone of his tweets? Maybe Edwards is being a bit more careful and corporate, but we're still getting the muppet videos and the cautionary tales of how to behave on trains.